Danke und auf Wiedersehen – Ein Bericht von Paul Gallanagh, Lehrer aus unserer Partnerschule in Dunoon; erschienen in der dortigen Tagespresse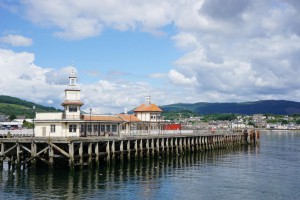 Danke und auf Wiedersehen
Pupils, parents and staff from Dunoon Grammar School gathered at the school at 6.30 am last Thursday (30 June) to bid a fond farewell to German partners as the 2016 edition of the Dunoon Grammar School and Hardenberg-Gymnasium exchange came to a close.
The tearful goodbyes from both sets of pupils as the German bus pulled away from DGS illustrated the success of this year's exchange and the bond forged between the pupils involved.
Pupils were immersed in a diverse range of educational experiences during the week long exchange. Visits included an excursion to Edinburgh to visit the Castle, with the one o'clock gun, the crown jewels of Scotland and the Stone of Destiny amongst the most popular attractions for the pupils. Pupils then followed in the footsteps of iconic world leaders such as Nelson Mandela and Rajiv Gandhi with a visit to the Royal Yacht Britannia – the former floating residence of the Queen.
Other highlights included a fun afternoon zorbing, aeroballing and arrow firing at Hunters Quay holiday village, high wire and zip line escapades at the Tree Zone at Loch Lomond and a trip to Largs exploring the famous Viking battle and enjoying a world famous Nardini's ice-cream.
The traditional exchange Ceilidh took place in the school on Tuesday evening (28 June), with all exchangers participating in Ceilidh dancing to music provided by the excellent Ri chièle. Pipers and Highland Dancers from DGS also provided entertainment that was greatly appreciated by the German visitors – as was the mouth-watering buffet supplied by parents of DGS pupils.
Exchangers visited the Glasgow Science Centre on the final day of the exchange, taking in a spectacular star gazing show in the planetarium before getting hands on with the many attractions in the centre. Finally it was on to Braehead for some last minute souvenir shopping.
Tired and sad to be parting, the pupils gathered at the school early on Thursday morning – but with plans for the DGS visit to Germany next June already underway it was a case of 'bis bald!'… 'see you soon!'
Head Teacher David Mitchell commented:
"The success of this year's exchange was evident. The warmth and respect displayed between the pupils and staff involved was clear to see. The range and richness of learning experiences provided for the pupils was first class and I am confident that many lasting friendships have been initiated this week. I would again like to thank all staff and pupils involved. I would like to extend my thanks to the parents of our pupils. Without their support and commitment this fantastic exchange would not be possible".
Heinrich Theilacker, teacher of English at Hardenberg-Gymnasium added:
"The exchange is now in its 28th year and hundreds of pupils have been given the opportunity to go abroad and enjoy the unforgettable experience of being part in the exchange over all these years. This year's stay here in Dunoon has again proven that the exchange is the undoubted highlight of our school year in Germany. We're already looking forward to the many years to come. A big thank you to everybody involved."
Paul Gallanagh